Department Overview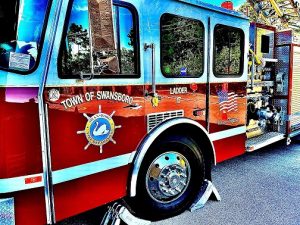 The Swansboro Fire Department proudly serves over 5000 permanent residents within Town limits and the White Oak District in an area of 9.49 square miles. We are a combination fire department in Onslow County with 7 career fire fighters, 9 part-time firefighters, and 6 volunteer firefighters responding from one station with an ISO rating of 4 within the Swansboro Fire District and a 4/9E in the White Oak District from the North Carolina Department of Insurance. The Swansboro Fire Department provides Fire and Basic Life Support (BLS) and Fire Code Enforcement services for all residents, visitors, and businesses in our response area. We also support our neighboring Fire and EMS departments through mutual aid agreements.
Please contact us to schedule a station tour or a public education event at our fire station located at 609 W. Corbett Ave. Swansboro, NC 28584. Our business phone number is 910-326-5908.
Meet the Fire Chief
Jacob Randall took the reigns as Fire Chief of the Swansboro Fire Department starting April 3, 2023. He brings a wealth of experience, education, and training, which he has acquired over a 13-year emergency services career. Chief Randall holds a Master of Science in Emergency Services Administration and a Bachelor of Science in Fire and Emergency Services Administration. He is currently pursuing his Doctorate in Health Sciences from Campbell University. In addition, Chief Randall holds the designation of Fire Officer from the Center of Public Safety Excellence, Associate Emergency Manager from the International Association of Emergency Managers, Fire Investigation Technician from the International Association of Arson Investigators, Fire Prevention Level III from the State of North Carolina, and Paramedic from both North Carolina and the National Registry of Emergency Medical Technicians.
Chief Randall has participated in numerous accomplishments throughout his career with multiple other agencies that will benefit the Swansboro Fire Department and, ultimately, the citizens it serves. He has an extensive operational background, complimented with significant knowledge of planning. Chief Randall strives to continuously improve the service capabilities of the fire and EMS profession to increase citizens' protection levels.