Department Overview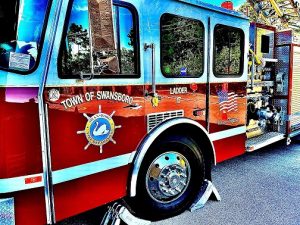 The Swansboro Fire Department proudly serves over 5000 permanent residents within Town limits and the White Oak District in an area of 9.49 square miles. We are a combination fire department in Onslow County with 7 career fire fighters, 9 part-time firefighters, and 6 volunteer firefighters responding from one station with an ISO rating of 4 within the Swansboro Fire District and a 4/9E in the White Oak District from the North Carolina Department of Insurance. The Swansboro Fire Department provides Fire and Basic Life Support (BLS) and Fire Code Enforcement services for all residents, visitors, and businesses in our response area. We also support our neighboring Fire and EMS departments through mutual aid agreements.
Please contact us to schedule a station tour or a public education event at our fire station located at 609 W. Corbett Ave. Swansboro, NC 28584. Our business phone number is 910-326-5908.
Meet the Fire Chief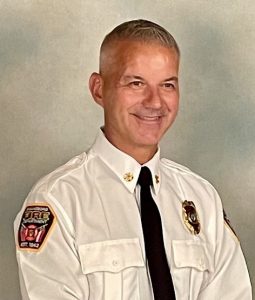 Dave Degnan was born, raised, in Chicago, IL. Until he enlisted in the US Air Force in 1985 and served nine years. In 1994 he was honorably discharged and decided to pursue a career in the fire service. He began his career in the fire service with the City of Sandusky, Ohio Fire Department in 1997 as a firefighter/paramedic.  He has attended numerous fire and EMS service training opportunities. He was appointed as fire chief for the Town of Swansboro on July 1, 2021.