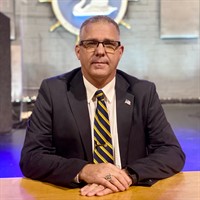 Email
Phone
Address
664 Westwood Court
Swansboro, NC 28584
Position
Commissioner
Jeffrey Conaway
Jeff entered the US Navy in 1983 from my home town of Connellsville, Pennsylvania. He came to Onslow County in 1985 when he was stationed at Camp Geiger. He had been stationed at various commands onboard Camp Lejeune for over 15 years to include Instructor duty at the now Medical Training Battalion on Camp Johnson where he earned Master Training Specialist. Jeff also served in Iraq during Operation Desert Storm and Iraqi Freedom and retired at the rank of Chief Petty Officer in 2006. At this time, with his wife, Wanda they moved to Swansboro from Jacksonville so she would be closer to Swansboro Elementary School where she taught 2nd grade and he accepted a position at the now Naval Medical Center on Camp Lejeune where he is currently a Contract Surveillance Representative. Jeff and Wanda have three daughters who all graduated from Swansboro High School; Ashley Salter who is married to Davis Salter, Catey, and Jenifer. We also have one spoiled dog, Jaxon.
Being an avid fisherman, he has a great passion for the outdoors and preserving our natural resources. He will continue to be an advocate for the preservation of White Oak River, wetlands, open spaces and the Historic District. As our town inevitably continues to grow, he would like to see controlled growth that can be supported by our town infrastructure and not overwhelm other town agencies and organizations, especially local schools.
The last 4 years he has served on the Historical Commission, Planning and Zoning Board, and the Board of Adjustment prior to being elected as Commissioner. Jeff also served as Vice Chairman on the Board of Trustees at Swansboro United Methodist Church. He is also a member of the Swansboro Historical Association.
He is honored and humbled to have been supported with so many votes in this past election and will strive to ensure the will of the people is carried out with all decisions being made. He is thankful for your confidence and trust.